History of Prince of Peace
Prince of Peace is defined by its friendly, family-like qualities. When asked to describe Prince of Peace in a word or Phrase, members responded with phrases like: "friendly" and "like a small family." Like any healthy family, the members of Prince of Peace demonstrate a love and concern for one another. Members shared personal testimonies to the love and support they have received from their fellow believers. That wonderful caring attitude extends to and includes your pastor and his family. That's a real blessing!
Finally, Prince of Peace's commitment to biblical truth is this congregation's most treasured heritage. In a society that embraces tolerance, diversity, and denies objective truth, Prince of Peace has been built on the truth of God's Word.
The lesson of history is to thank God for his blessings and build on those blessings, to appreciate your biblical heritage and do what is necessary to hand that heritage on to succeeding generation in a meaningful way.
A church's history explains how it got to be what it is. In that history we see blessings for which to thank God for and strengths on which to build the future. Knowing our roots allows us to learn from the past and plan wisely for the future.
Keep the following question in mind when reviewing Howell Prince of Peace's past:
"With God's continued blessing, how big of a future do you want?"
Prince of Peace's history is defined by several significant facts and characteristics. First, it is defined by its pastorates. Of your four previous resident pastors, three of them served for more than six years providing the congregation with relative stability. Only one pastor served less than four years. There were two longer vacancy periods, one lasting five months and the other seven months.
| | | | |
| --- | --- | --- | --- |
| Pastorates | Pastor | Dates of Service | Duration |
| Organizing Pastor | Pastor Arthur Clement | Fall, 1968 – July, 1969 | 8 months |
| 1st Pastor | Pastor Richard Warnke | July, 1969 – December, 1975 | 6 yrs, 5 mos |
| 2nd Pastor | Pastor Lynn Wiedmann | May, 1975 – December, 1985 | 10 yrs, 7 mos |
| 3rd Pastor | Pastor Paul Baldauf | July, 1986 – June, 1994 | 7 yrs, 11 mos |
| 4th Pastor | Pastor Peter Snyder | July, 1994 – May, 1998 | 3 yrs, 10 mos |
| 5th Pastor | Pastor Mark Franck | July, 1998 – present | Present |
Significant events that have shaped the congregation's ministry:
Fall, 1968 – Several families explored the possibility of beginning an Evangelical Lutheran Church in the Howell area by contacting Pastor Clement of Memorial Lutheran Church in Williamston.
December 15, 1968 – First worship service was held in the gymnasium at Howell's Northwest School. Since the first worship services were held during the Christmas season, the name "Prince of Peace" was chosen as the name of the congregation.
May 1, 1969 – Prince of Peace was granted mission status.
1969-1972 – The congregation met in the Howell Recreation Center.
June, 1969 – Property and house were purchased on West Grand River Avenue.
July 13, 1969 – Pastor Richard Warnke was ordained and installed as Prince of Peace's first resident pastor.
November 23, 1969 – Thirty-four adults signed the charter, incorporating as a congregation.
April 9, 1972 – Groundbreaking was held for the new chapel.
1972 – The congregation became self-supporting.
January 14, 1973 – The new chapel was dedicated.
1987 – A two-story addition and redesign of the church roof were completed.
1999 – The old parsonage was removed from the property and a different parsonage purchased in Howell.
2001 - Started Parish Assistance Program.
2002 - Paved and expanded the church parking lot.
Replaced roofs at the parsonage and church.
Painted church and changed color of the church from dark brown to toupe.
Moved church cross closer to the church.
Painted parsonage.
2003 - New Church Structure approved and Council Elections held.
2004 - Plans were drawing and estimates for new church expansion.
Replaced outside doors at the back and front of the church.
Installed three new furnaces and replaced the hot water heater.
Installed new stove sink and kitchen cabinets in the fellowship area.
2005 - The trees have been removed from behind the church to allow for the expansion of the church
April 30, 2006 new church expansion dedicated
November 2009 New lighted church Sign is installed
September 2011 Moved organ from North to South sided of church
October 2011 Church purchased 100 new chairs for worship area
July 2012 New carpet was installed in the Church area
October 2012 New Church Pues was installed in the area
April 2015 New carpet was installed in Fellowship Hall
June 2015 Parsonage Renovation Update (New Windows, Vinyl siding, Garage door, Patio door, Insulation of entire home, Patio door, Soffit, Gutters and dowspouts, Rebuilt Screen red porch, Exterior light fixtures)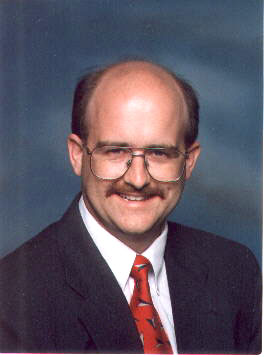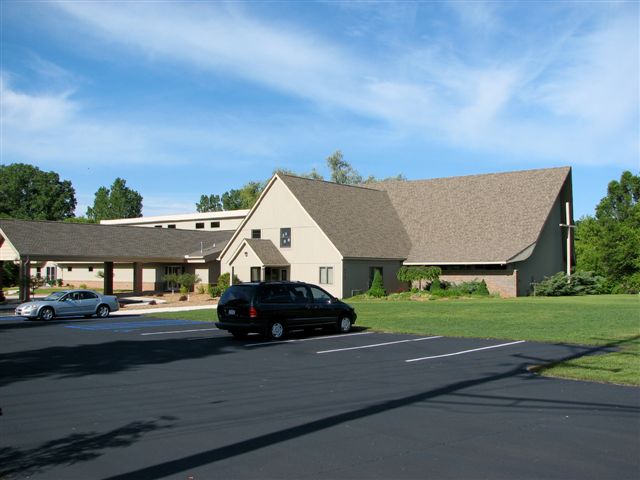 Pastor Mark Franck
Pastor Franck was born and raised in Livingston, Montana. He left home to attend high school at Wisconsin Synod Lutheran called worker preparatory schools in Mobridge, South Dakota and Prairie du Chien, Wisconsin.
After graduating from high school in
1981, he attended the Wisconsin Synod's pastor training college, which was then called Northwestern College and was located in Watertown, Wisconsin.
After graduation from college in 1985, he attended Wisconsin Lutheran Seminary in Mequon, Wisconsin.
Studies there included:
two years of classroom training, one year vicaring at Mount Olive Lutheran Church in Delano, Minnesota, and a final year in the classroom.
Pastor Franck graduated from seminary in 1989 and was ordained into the public ministry.
Pastor Franck has served two congregations before coming to Prince of Peace. They are Messiah Lutheran Church of Nampa, Idaho and Redeemer Lutheran
Church of Yakima, Washington.
Pastor Franck and his wife, Allison have been blessed with five children:  Krystal, Julie, Lena, Marcos, and Gretchen. They look forward to God's continued blessings as they live and serve our Lord at Prince of Peace Ev. Lutheran Church.